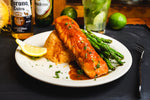 Ingredients:
Salmon Filet (6-8oz)
4oz Soul de Cuba Cafe Honey Mojo
4oz Water
1TBSP Butter
1tsp Olive Oil EVOO
Salt and Pepper to taste
Instructions:
- Heat Pan to Medium-High heat (Tip: when a drop of water sizzles and rolls around when it hits the pan, you have the right heat)
- Add a tsp of olive oil and place salmon filet skin side down (don't touch it for 3 mins)
- Flip the salmon over. (You should have a nice crispy side facing up)
- Add Soul de Cuba Cafe Honey Mojo, Butter, Water and a sprinkle of salt / pepper mix them up and cover the pan.
- Lower Heat to Low - Medium and allow to cook covered for 3 more mins.
- Check that the Salmon with a fork to ensure that it is cooked to your preference.
- Transfer to a plate and allow to rest for 5 min (if you can help yourself)
Buen Provecho!
Don't forget to add the Honey Mojo from our Online Market to your cart! 
Cuban salmon recipes are great for a coastal-inspired night at home. This fish recipe in a Caribbean style has a great source of immune booster ingredients concentrated in our honey mojo mix. Mojos are the secret ingredient of most Cuban dishes, where garlic and acids make an entrance to your palate, balanced with the honey texture and flavor. The honey mojo used as a sauce or marinade is one of the most famous flavors in the Island. It is definitely a favorite at the Soul de Cuba restaurant.
If you already tried it and you are expecting to wow someone with your Cuban culinary skills, try the Pargo a la cubana recipe as well. You'll thank us later.