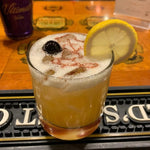 The biggest island of the Caribbean is filled with traditions and celebrations, and - of course -  Christmas and New Years Eve are among Cubans favorite party days. 
Christmas in Cuba is celebrated as a family time, and even though the Island has a religious background, for many, the day is considered more like a time to spend with family, sharing a traditional meal and drinks. 
What does a Christmas or New Year's Eve table look like in Cuba?
Lechón Asado, Yuca con Mojo, Arroz y Frijoles, Ensalada, y de postre, buñuelos o flan.
Roast Pork, Cassava with traditional marinade, Rice and Beans, Seasonal salad, and for dessert, a fried cassava dough with syrup (something close to a sugared bun with star anise).
Drinks? Of course! Whether it is the classic Rum and Coke, mojitos, or any other cocktail from the long list of Cuban cocktail heritage, there are always new additions in this area in every party. 
Here is our take on a Soul de Cuba cocktail mix that we call "Tastes like Christmas in Cuba". 
TASTES LIKE CHRISTMAS IN CUBA:
FILL 10OZ ROCKS GLASS WITH ICE AND ADD:
1.5OZ BARREL AGED CINNAMON BOURBON 

1/2 OZ SIMPLE SYRUP

1OZ MANGO JUICE

1OZ PINEAPPLE JUICE

1 DASH HABANERO BITTERS
SHAKE AND POUR BACK INTO GLASS
TOP WITH LUXARDO CHERRY, SYRUP AND ENJOY! 
Give it a try this season and start the year with daring flavors and new skills! 
---
Do you feel creative in the kitchen and want to prepare an all-Cuban-style-celebration? 
Check our post about the Roast Pork and suggestions that will complete the party concept. 
https://souldecuba.com/blogs/recipes/cuban-themed-party-ideas-recipes 
There are many traditions that Cubans associate with December's holiday season. Here are some that you might find funny, familiar, or inspirational!
Burning an effigy is a rural tradition that you can still see in many parts of the Island. It is intended to be a representation of the gesture of getting rid of the bad things that might have happened in the past year, burning it to celebrate and leave room for the good that is coming in the new year.
Other traditions in Cuba for New Year's Eve include throwing water away, walking around with a suitcase, kissing loved ones at midnight, and toasting with cider, just to name a few. 
Why do some Cuban families roast a whole hog/pig for dinner?
The cooking process is part of the celebration, and it is tradition to find large gatherings of friends and family roasting a whole pig with different techniques and - of course - different recipes. But they all have one thing in common: MOJO.
This is the secret ingredient for Cuban roast pork; the perfect balance between garlic, citrus and herbs to elevate the meat experience with the most characteristic flavor of the Island's cuisine. 
At Soul de Cuba, we take a lot of pride with ours, and we carefully curate the mix, following the recipe that has been passed through generations, preserving our heritage through flavor, art, traditions and more. 
If you want to dive in our classic, all-natural, immune-booster Mojo, check this link and let us know how your marinade process goes with it, if you decide to roast a pork ham or even a smaller piece. 
https://souldecuba.com/collections/sdc-at-home 
Soul de Cuba counts its blessings with every person that has helped us share our flavors with the New Haven community. Thankful, optimistic and Happy, we welcome the new year, and we hope you are also celebrating a new beginning filled with infinite opportunities
Happy Holidays!
Jesus Puerto & The Soul de Cuba team