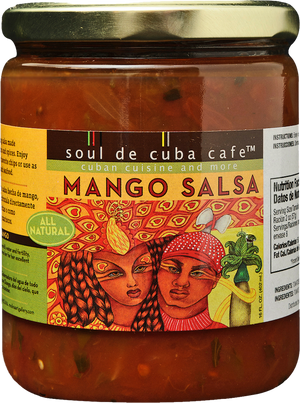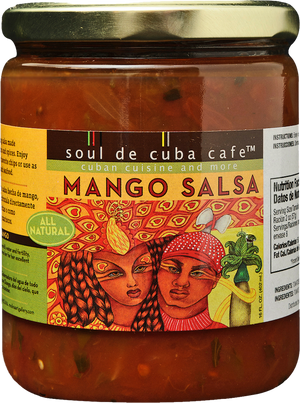 On Sale
Mango Salsa
Our Mango Salsas are all-natural, healthy, and delicious. Add to scrambled or fried eggs, over seafood, make your own ceviche, or use as a dip. The spicy habanero pepper adds a nice zip without inhibiting the flavors of the other ingredients to surface.
Have you heard the expression, or the Cuban song, that says 'echale salsita' (pour more sauce)? It is because Cubans love sauces and flavorful meals. This mango salsa was made thinking about the freshness of a tropical fruit paradise, with a small "kick" from habanero pepper to represent the Caribbean mix that characterizes the Cuban cuisine. 
We Care
We care about our products' impacts. That's why the Cuban traditional flavors of the Mango Salsa from Soul de Cuba's online market is an immune booster, gluten-free, and BPA free. 
Recipes with Soul 
Have you checked Soul de Cuba's family recipes for inspiration? There might be a couple of new tricks to make your own Cuban-inspired dishes with our marinades and salsas. Whether it is with our honey mojos or with the special Caribbean flavors for the roasted pork, you will love how easy it is to marinade your meals and get new flavors in the kitchen with no effort. 
Check our easy recipes and recreate the main dishes from our Restaurant in New Haven! From chicken with mojo and honey to traditional Lechon Asado or Cuban style fish, we selected our top restaurant favorites to help you have a full-flavored Cuban experience in your own kitchen.