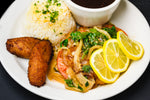 Ingredients:
Boneless red snapper (8oz)
White onion (sliced) 3 oz
Cilantro 12 leaves
Tomato (sliced) 4 oz
2-3 oz white wine
3 oz Soul de Cuba Mojo Marinade
1 pinch sea salt
2 oz olive oil
Instructions:
Add olive oil to sautee pan and heat on high. Add white wine, a pinch of sea salt and 3 oz Soul de Cuba Mojo. Let simmer. Lower heat to medium. Add the red snapper, tomato and onion. Cover and let cook for 4-6 minutes, until tender and cooked throughout. Finally put some cilantro on top, and enjoy!
Don't forget to add the Soul de Cuba Mojo from our Online Market to your cart! 
At Soul de Cuba we love sharing this island red snapper recipe since you cannot get more caribbean than this. All of our dishes are easy to make thanks to the marinades and sauces from Soul de Cuba Specialty Foods, the first-ever nationally distributed Cuban food product line that you can access at our online market. 
Check the marinades and mojos that match with traditional Cuban fish dishes and other Caribbean-inspired meals! 
Our Cuban Mojo was created to showcase the well-balanced blend of pungent garlic, spicy chiles and citrusy orange flavors that are the signature flavor of Cuban mojo sauce.
Soul de Cuba's restaurant mojo was created to add great flavor to your meals, while serving as immune booster. It provides a  well-balanced blend of garlic, spices and citrus flavors that are one of the signature flavors of the Cuban cuisine.