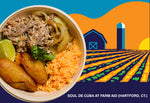 Our family at Soul de Cuba is happy to announce that we will be part of the upcoming Farm Aid event celebrated in Hartford, Connecticut, on September 25th. 
We are proud to announce that our family's traditional recipes will contribute to the mix of flavors at the venue, being our booth the proposal for Latin food lovers. 
This event doesn't just allow us to participate in a great concept supporting better agriculture, but it also promotes and generates bonds to create a more connected system.
This time we have partnered with Deep Hollow Farm, Grassy Hill Farm, and Secchiaroli Farm. 
Each partnership has helped us bring our most traditional flavors to the event with top quality ingredients thanks to the Connecticut farmer's community. 
Deep Hollow Farm will be our provider for the greens on our famous Soul Salad, an organic greens salad with tomatoes, red onion, bell peppers, candied walnuts, Spanish olives, and one of our signature flavors: the honey balsamic vinaigrette!
Grassy Hill Farm and Secchiaroli Farm are two Berkshire pig providers that will bring only the most delicate pork pieces to our table where we will be preparing traditional roast pork in a bowl and, of course, our staple Cuban Sandwich (Baked ham, salami, roast pork, swiss cheese, mustard mayo, and pickles, carefully prepared to preserve the traditional Cubano sandwich recipe).
As part of our corporate responsibility strategy, we will continue to offer responsible dinnerware with low environmental impact at the Soul de Cuba booth at the Farm Aid event on September 25th. All of our drinks and food will be served in compost ale glasses, utensils, and dishes. 
Want to enjoy Dave Matthews Band with a Latin touch? Stop by our booth to say hi and taste our traditional recipes! Some of our classic flavors include our CEO and Founder Jesus Puerto's family recipes, like the famous 'Mojo' marinade sauce, packed with all-natural immune-boosting ingredients that make our roast pork and Cuban sandwich so special. 
At Soul de Cuba Cafe, we build peace through hospitality and promote messages of love and freedom. We are proud to be a part of the Hartford event from Farm Aid, helping people connect and supporting agriculture through good music and good food. 
Do you know the story of how Farm Aid started? In the 1980s, family farmers faced a crisis that forced many people off their land. Then, Willie Nelson, John Mellencamp, and Neil Young organized a concert to raise awareness and support America's family farmers. The shows have continued till this day.
At Soul de Cuba, we understand the collective power, and we believe there is always room to grow together as a community by sharing messages of freedom, love, and justice, celebrating life, heritage, and culture in all their forms, including food, of course.  
We are delighted to join this event for the first time in Hartford.
See you all at the concert on the 25th! 
Jesus Puerto & The Soul de Cuba team