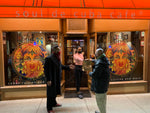 Soul de Cuba's Corporate Responsibility in sync with people & nature
Our values are rooted in ancestral wisdoms, connecting respect for people and nature in every decision of our business. This keeps us deeply mindful to practice respect and care for all living things as we build peace through our hospitality. 
Jesus Puerto, Cuban-American founder and CEO of Soul de Cuba Cafe has lived over twenty years in the Pacific Islands between Samoa and Hawaii where he first learned of the way of Alofa which means love, affection, but it is also related to hospitality and kindness. That is the main concept of our sustainability approach. By linking Cuban traditional knowledge and flavors, with Pacific Island and Cuban wisdoms, we build a unique path in balance with every being.
Our latest changes, aligned with these values, arose with the way we strive to face the challenges of Covid-19. 
In response to a new reality the business faced a situation where the solutions had to bring a safer environment for customers and staff, increasing the kitchen's productivity to make up for lost months of work, and also making sure that all of our changes were aligned with our philosophy.
What did we change?
1. Soul de Cuba is now a proud hospitality provider that uses and promotes a responsible approach to a safe service through the use of new eco-friendly dinnerware. 
There's never too much on your plate 
to take care of yourself and those around you...
By giving our restaurant a greener soul, we introduced a selection of natural, bio-based, and organic dinnerware products. What makes them different? 
Made with Eco-Friendly Palm Leaf 

Used handpicked naturally fallen palm leaves

Used bio-based materials

Free of harmful BPA or chemicals 

100% compostable

Meet ASTM D6866 standards (according to manufacturer: Eco Soul)

Are USDA BioPreffered Certified. 
Jesus thinks that this solution not only adds a greener approach, but also helps us provide a safe experience to friends and customers that visit us in times of COVID-19. 
2. We took a second step into responsible dinnerware and brought biodegradable cups into the table.
Enjoying green mojitos 
(inside & outside)
Made by Green Paper Products, the cold cups we use now are compostable & biodegradable, Petroleum Free, and made with a corn-based resin that uses much less energy and generates fewer greenhouse gases than the production of conventional plastics.
3. The business now provides contactless service.
4. Soul de Cuba now offers takeout and deliveries as a new approach to make the most of our kitchen production while keeping a safe distance between our customers who are dining indoors. 
We realized that providing a service that is contactless, or that encourages takeouts and deliveries would help us keep a safe environment while customers enjoy our most traditional flavors. This initiative was not only a logical move facing the pandemic, but also an optimization strategy that we had to implement in order to fully exploit our service and production capabilities.
5. SDC now boosts tailor-made catering offers with a Cuban cuisine approach, to maximize the reach of our two production spaces.
Whether it is by reading Soul de Cuba's catering pre-made options or going through our events menu, we are sure you will find a great deal of finger food, Cuban food catering specialty flavors and a flexible menu to have a great catered celebration in New Haven and Norwalk.
"Promoting messages of freedom, love, and justice, in harmony with nature, is the cause of our being. All of Soul de Cuba's actions are aligned with a path to build a better world through hospitality, through sharing cultural values, and through making and eating good food". (Jesus Puerto, Founder, and CEO of Soul de Cuba).
We look forward to continuing to enhance a sustainable business path and to bring other businesses into the realization that a fair, sustainable business doesn't only look good and feels good. It also pays off.